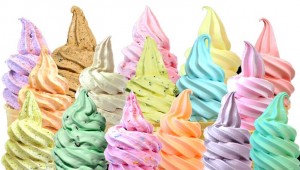 Add 24 Flavors To Your Soft Serve Selection
The 24 flavor System comes with everything you need to offer 24 delicious flavors of soft serve including: a variable speed footswitch, 5 special cups with caps, 24 – 8oz bottles of flavor extracts which give a total yield around 7000 servings, 24 special pumps to fit the 8oz bottles of extracts, attractive trademark point of sale merchandising items, one special cleaning cup with brush.
Wadden has developed a 24 flavor system that allows the operator to transform vanilla soft serve, or soft frozen yogurt, into one of 24 different flavors on a cone by cone basis. This is accomplished in three easy steps:

Add one of 24 flavors to your vanilla soft serve ice cream or frozen yogurt;
Blend the flavor in; and
Dispense your new flavored soft serve!

More customers and their friends enjoy a variety of exquisite flavors and keep coming back for more ! Increase items on your menu with appealing offers such as fresh fruit, cookies, bits of candy sundaes, shakes, even flavored yogurt by adding our natural food extract flavors.